Running the right way.
We know success is in the details. Details like employee safety, regulatory compliance and ethical best practices. That's why we enforce company-wide programs emphasizing the need for compliance that exceeds required and typical voluntary standards in these areas. Because it isn't just the right thing to do—it makes us a stronger organization, and helps us do what we do better.
Employees, customers and neighboring communities alike can count on Danos to uphold the highest standard of ethical

practices.
---
Safety
Safety first.
As a company, we're all about protecting investments—both professional and personal. So we go to great lengths to create an environment of safety and minimized risk and overall well-being for our most valuable assets: our employees. When it comes to safety, Danos goes above and beyond to protect our team and the integrity of your project. Every Danos employee attends a multi-day safety training program; it's the reason behind our world-class safety results, industry-leading TRIR and multiple U.S. Department of Interior SAFE awards. Danos' safe, well-trained crews deliver cost savings, decreased downtime and improved operations for your project, and we have the safety metrics to prove it.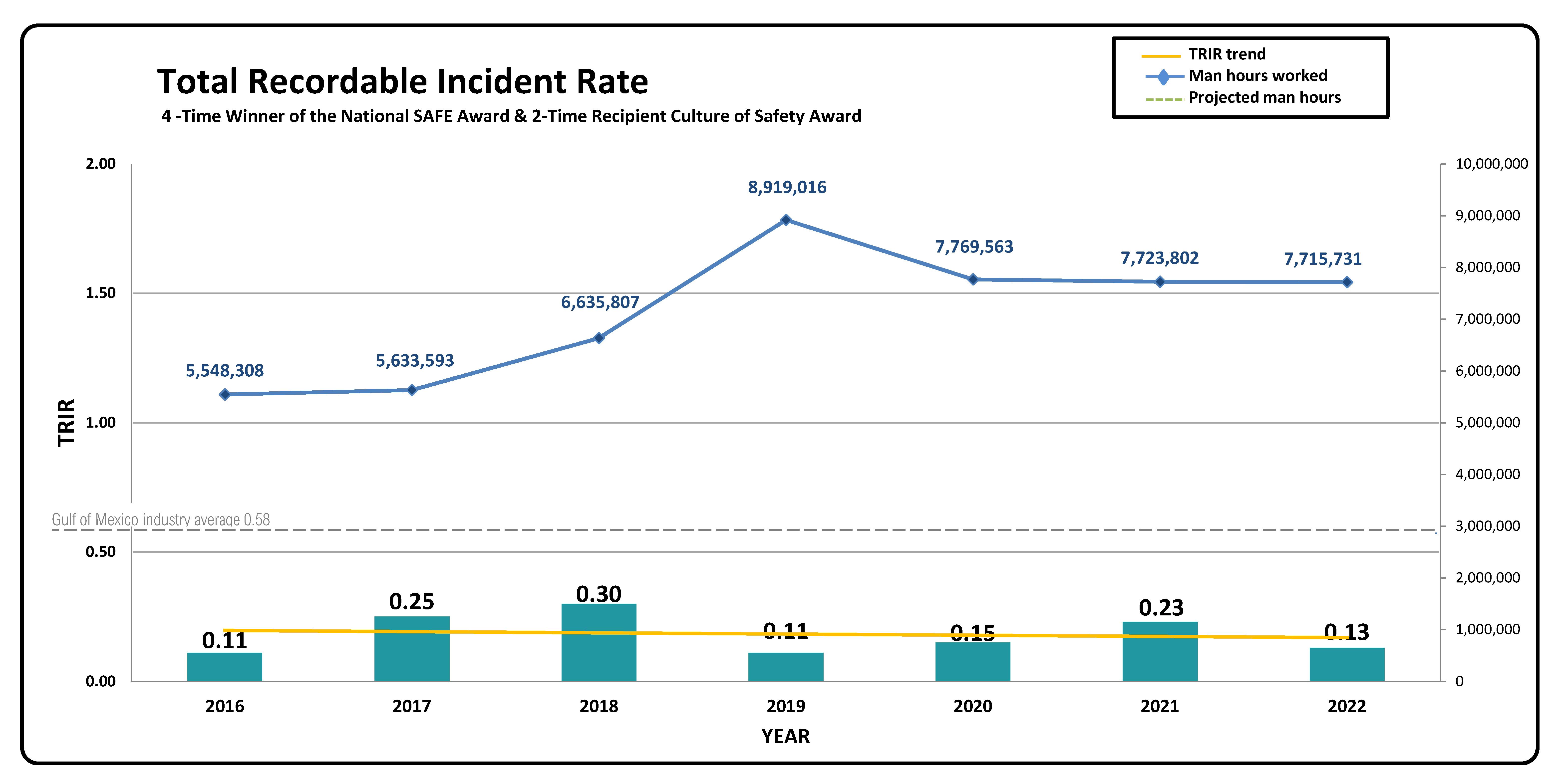 Our goals are clear.
Create added value for customers through world-class performance in health, safety and environmental protection, and provide the support, training, tools and environment to ensure all of our employees return home safely to their families. There is no greater value at Danos than ensuring the well-being of our employees and subcontractors. Our company culture reinforces individual responsibility as a means to increase both personal safety, as well as the safety of fellow employees. From minimizing risk on the platform to emphasizing safety through education, Danos goes above and beyond to protect every team member.
Danos was proud to be named in top three finalists for the Center for Offshore Safety Leadership Award in 2020. We are pleased to share our video submission about culture of safety at Danos.
Quality
Danos fabrication faciltiy is fully certified to ISO 9001 Quality Management System standards, so you can trust that your project will be done right the first time. Utilizing the ISO family of standards provides a tried-and-tested framework for managing company processes to ensure quality results every time. Regardless of the project location – domestic or international, onshore or offshore – Danos' uncompromising standards mean you have a partner you can trust to get the job done right. Don't take our word for it, our awards record speaks for itself.
ESG
At Danos, we define environmental stewardship as efforts taken to sustain and preserve the natural environment and actions to reduce or mitigate impacts to the environment. This includes a shift to renewable energy sources, increased efficiencies to minimize environmental impact, and other steps deliberately taken to protect and preserve natural resources. 
Social responsibility describes the many ways in which our core values guide us in our treatment of employees, customers, communities and supply chain relationships. From our charitable work to our diversity and inclusion initiatives, we live our value of respect and the promotion of human dignity. 
We believe effective corporate governance is essential to our success. Therefore, we intentionally structured our board of directors and leadership team to provide us with accountable, transparent and purpose-focused decision making and vision-setting. Underpinned by our internal policies and standards, we seek to meet or exceed customer and government reporting requirements and safety standards. 
Danos' commitment to ESG principles is not only consistent with our values-based approach to doing business but fundamental to our success. We are committed to continued innovation, investment and partnership to advance sustainability for the benefit of our company, industry, communities and society.