Paul Danos Reelected as NOIA Chair

The National Ocean Industries Association (NOIA) Board of Directors has reelected Paul Danos, Owner & CEO of Danos LLC, as the NOIA Chair for the 2023-24 term. Jonathan Landes, President, Subsea of TechnipFMC was elected as the 2023-24 Vice Chair. Paul and Jon were confirmed in their positions during the NOIA Board of Directors meeting.
NOIA President Erik Milito said, "Danos and TechnipFMC are at the forefront of the energy innovation driven by the American offshore industry. With the leadership of Paul Danos and Jon Landes, Danos and TechnipFMC reflect our industry's ongoing commitment to safely and responsibly provide the energy that is essential for modern life. From producing lower carbon oil in the Gulf of Mexico to upcoming wind projects along the Atlantic, Pacific, and Gulf Coasts, as well as emerging offshore carbon sequestration and hydrogen initiatives, our members' innovative spirit has no bounds. Danos and TechnipFMC showcase the offshore sector's integral value in developing, scaling, and deploying the energy solutions of tomorrow, while simultaneously securing the energy we depend upon today.
"The U.S. and global economies require energy solutions that create jobs and drive economic growth, and the American offshore industry is perfectly positioned to deliver. Paul and Jon's vision and leadership will further support NOIA's successful advocacy for American offshore energy."
NOIA Chair Paul Danos, "NOIA plays a vital role in bringing together the diverse range of energy companies that constitute the offshore energy industry. The success of our industry means providing quality jobs for Americans, delivering affordable and sustainable energy for our country, and developing environmental solutions that can benefit our communities. I am looking forward to continuing my work with the NOIA staff, and I'm excited to further collaborate with Jon in finding new ways to advocate for our industry and to promote innovative solutions that can strengthen America's energy outlook."
NOIA Vice Chair Jon Landes said, "It's an honor to be elected to NOIA's Vice Chair role, and I'm excited to work alongside Paul to continue the organization's important mission. TechnipFMC is known for driving change in the energy industry, and NOIA is a natural partner for us to achieve this ambition. Together, we can deliver the energy and energy security the world needs."
View the original release from NOIA here.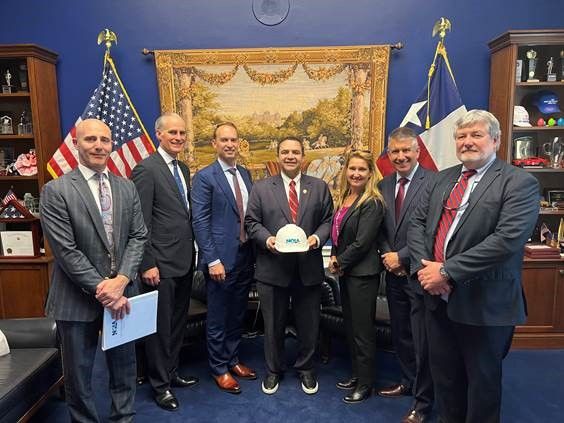 Pictured above from left to right: Kevin Simpson, Shell, James Dunlap, ExxonMobil, Paul Danos, Danos, Congressman Henry Cuellar, Celine Gerson, FUGRO, Erik Milito, NOIA, Bill New, New Industries